One of the hardest things to do as a parent is to stop comparing one child to another.  This is true for your own children or someone else's children.  Parents are constantly comparing who did what first.    Having something that better than someone else is a common theme in our culture.
one-up·man·ship
The art of outdoing or showing up a rival or competitor, as in exploits, privileges, or honors.
This puts many parents on edge.  Am I a good enough parent? Am I doing the "right" things for my child?  In the end, the "right thing" is always what is best for the mom, the baby and the rest of the family.
What does one-upmanship have to do with car seats?
Parents don't want to hear that they have done something wrong.
When parents see me at a clinic and we go through the proper way to install and use their car seat, the most common reaction is embarrassment.  They feel badly that they did not get the seat installed properly and put their child at risk. One parent said to me, "I'm such a bad parent!"  I stopped them and reassured them that by being at the clinic and learning how to install and use the seat properly made them a very good parent.
Too many parents assume that because they did the best they could that it is good enough.  90% of car seats are used or installed incorrectly — that is not "good enough".
Educating parents is the best way to ensure that car seats are installed and used properly.
Parents know that they need a car seat — it's the law.  But not many parents understand…
…why an infant should be rear-facing until at least 2 years old or
…why a 5-point harness provides more protection or
…why age shouldn't be a factor for moving out of a booster.
"It's safer" is a good answer, but it's not enough.  If parents understand the "why" then hopefully they will take car seat safety more seriously.
At a car seat clinic, we try to explain to the parents exactly what needs to be done to have their child be safe.  We get the parent to install the seat with our guidance.  This way the parents are confident with the installation of the seat and safety of their child.
In future posts, I'll give you as much information as I can so that you can keep your child safe in a vehicle.
Create a "knowledge sharing culture"

— Technicians to parents, parents to parents, parents to children, children to children
Once parents are armed with the knowledge of how to use their seat properly for their child, we always encourage the parents to tell their family and friends to get their child's car seat checked.   We want parents to spread the word that having someone help them install their seat seat is not a bad thing.  It means that their child will be safer.
This sharing of knowledge is not just between the car seat technician to a parent, but also from the parents to the child.  As a child gets older, it is important that the child become knowledgeable about car seat safety.  Many, many (too many) times I have had parents tell me that their short 8 year old child doesn't use a booster because their friends don't use boosters.  Peer pressure shouldn't be more of a concern than your child's safety.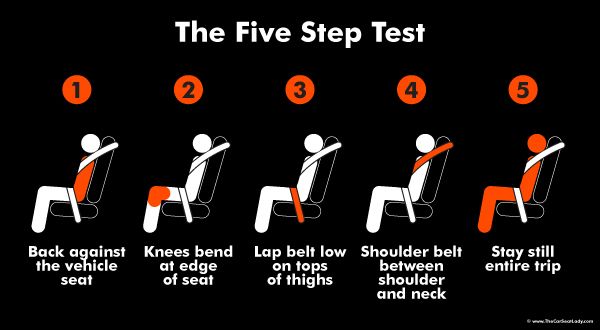 My children who are 8 and 6 ride in a booster and 5-point harness, respectively.  By law, Rachel, my 8 year old, could ride without a booster.  I have taught her why the booster is safer and she feels it is more comfortable.  Read my post here about the 5 Step Test.  Rachel now can confidently tell her classmates why she rides with a booster.
It is this sharing of knowledge that will take the shame away from asking for help with their child's car seat.
It starts with you!
If you've never had your car seat checked, read this post I wrote "What happens at a clinic?" and I include a link to find car seat clinics in your area!  Nothing to be embarrassed about! Once you have this new knowledge, you too can spread the word about how important it is that your child is safe!
---
As part of my quest for all children to ride safely in vehicles, I blog a lot about car seat safety on my blog — http://www.mapsgirl.ca !
See my most recent post about National Car Seat Safety week and my guest post on Snuggle Bugz blog about Car Seat and Vehicle Incompatibility.
---