A magical thing happened today.
The thermometer on my deck sat in this thin ray of sunshine and for once, the little red needle edged over into the "+" category. The clouds dissipated and that inspiring blue colour of the sky came flying through. The mountains & foothills of our backyard popped into view, and all of the snow melted off the driveway.
After the very cold weather, this outdoor girl's first thought was "YES!!!! Spring is here. Now, let's get outside."
So we did.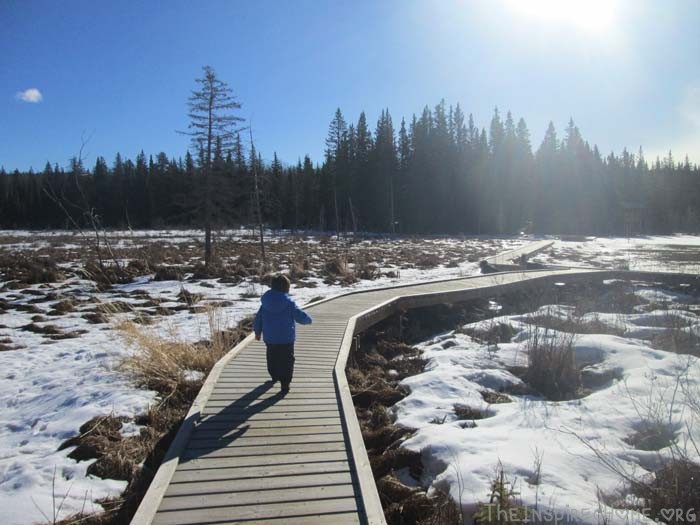 It was glorious. We walked a trail loop in our Beaver Boardwalk. Milton our border collie had a great time running and leaping through the snow. Mr J liked chasing the woofies and explaining to me all of the natural wonders in the forest. Miss P promptly fell asleep in her carrier while I carried her on my back. I had a wonderful chat with a good friend and her child got a little Vitamin D and her dog a good run too.
We did about a 1.5-2 km trail loop, in about two hours.
Get Outdoors: Mini-Hike with Kids
If you're new to hiking or outdoor adventure with children, the key concepts are simple:
Pick a short distance to start. A small trail loop (think 0.5km or less) will give you a good idea of your child's endurance. There is no rule of thumb here – you know your kid best!
Don't expect to walk quickly. Carrying a load of baby plus an inquisitive toddler doesn't make for a quick speed. Instead, focus on your surroundings, point out trees, bushes, birds, and much along the way. Let children explore the outdoors (as long as it's safely).
Be prepared to turn back. If all else fail, be prepared to throw in the towel and return to home or the car. Some adventures don't work out as we planned and there's no sense in making everyone miserable to get to your intended destination.
Get Outdoors: Get the Gear!
I use a soft-structured carrier to carry Ms P on my back. Then I carry a fanny pack over my shoulder with the essentials while I'm hiking, and here is what was in it today.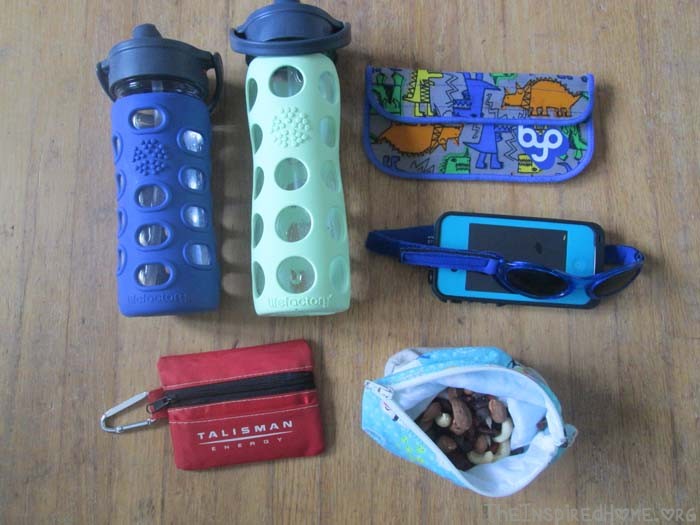 Water Bottles (one for Mr J, one for me)
Homemade trail mix in reusable bags (complete with chocolate chips – yum!)
Mini-first aid kit
Sunglasses
iPhone with LifeProof Case
[product id=67864]
What adventures are you planning to go on soon?