Fall is here is Wyoming and the leaves are all turning beautiful hues of gold, red, and orange. We recently purchased two boxes of peaches for a local church fundraiser, and while the kids love to eat fresh peaches I knew I had to get creative and do some baking. I normally think of peaches as a summer dessert, one of The Cowboy's favorite treats is Peaches and Cream. I'm sure if he wasn't away Elk Hunting, he'd be having it every day he was home! As I made my traditional Crispy Peach Cobbler I decided to make it taste a little more like fall rather than summer. I toned down the sweetness and added a little nutmeg and vanilla to the filling to bring in some bolder fall flavors. For some more great fall flavor try our Apple Extra Crispy Crisp!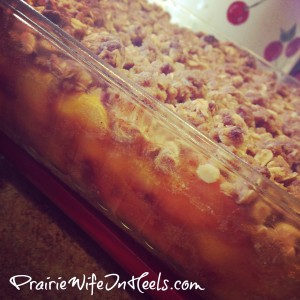 Crispy Peach Cobbler
Prep time: 20 min Bake time: 30 min
Serves 8
Peach Filling
6 large peaches (8 medium)
1/2 cup white sugar
1/2 cup flour (white or wheat is fine)
1/2 tsp Cinnamon
1/2 tsp Vanilla
A sprinkle of nutmeg
A splash of lemon juice
Crispy Topping
1 cup oats
¼ cup brown sugar
½ tsp cinnamon
1 cup flour (wheat or white is fine)
A pinch of salt
¾ cups ( 1 ½ sticks ) of unsalted butter, melted
1. Turn oven on to 400 degrees and spray a 9×9 glass baking dish with nonstick spray.
2. Cut peaches up into small chunks (I don't peel them).
3. Mix together peaches and all the other ingredients for the Peach Filling, stir well and set aside.
4. Mix all the dry ingredients for the Crispy Topping together, add melted butter and combine well.
5. Stir the Peach Filling one more time and place into glass baking dish.
6. Using your hands, sprinkle the Crispy Topping evenly over the Peach Filling.
7. Place Crispy Peach Cobbler into oven and bake 30 minutes or until the Crispy Topping is dark golden brown and the Peach Filling is bubbling.
8. Serve warm with Homemade Whipped Cream or Vanilla Ice Cream.